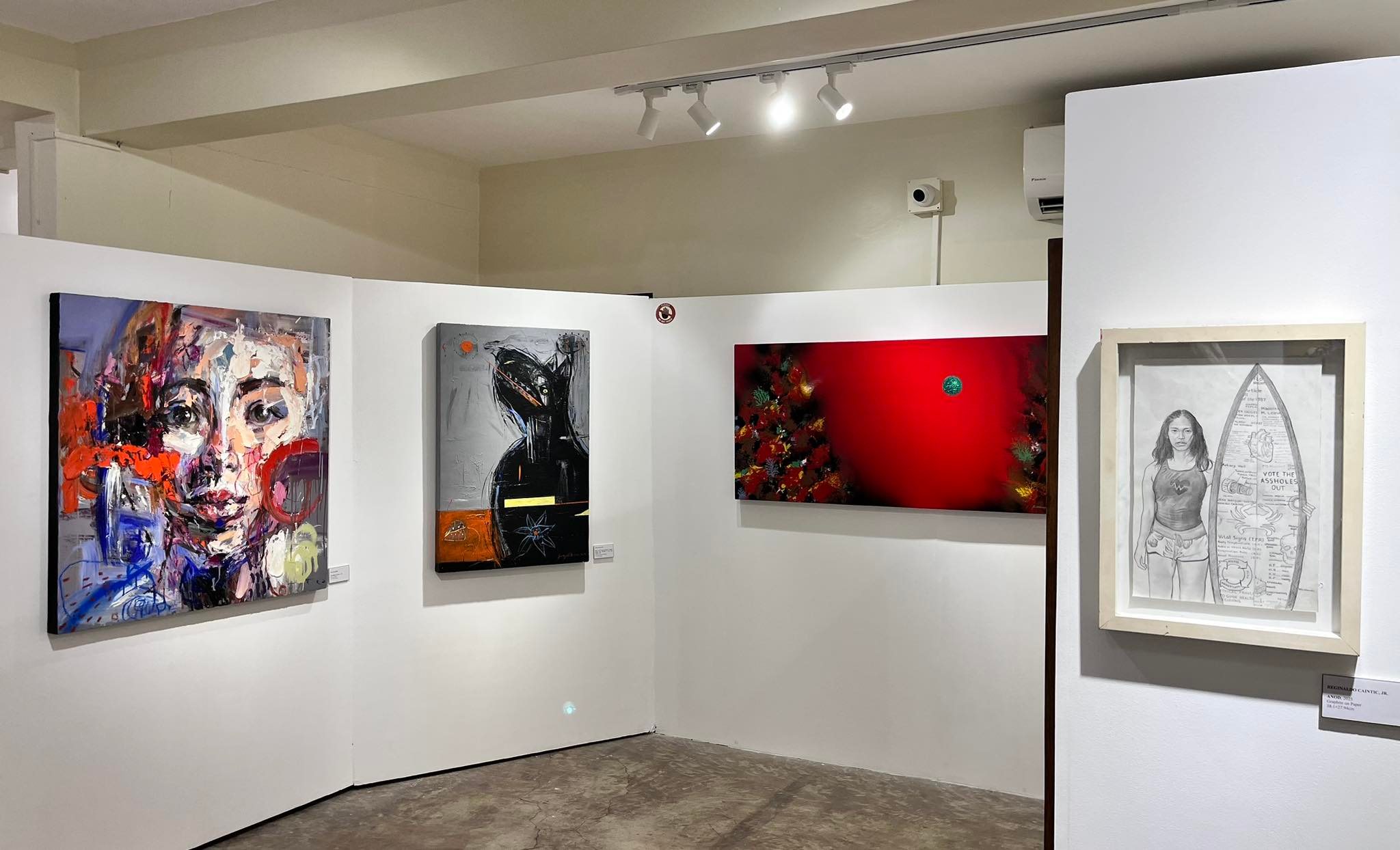 IN PHOTOS: The artworks in Kasikas Ang Bagong Biswal 2023
KASIKAS Ang Bagong Biswal 2023 is a Visayas region exhibit organized by the Committee on Visual Arts (NCVA) of the National Commission for Culture and the Arts (NCCA), in partnership with Artletics Inc., and the UP Visayas Museum of Art and Cultural Heritage (UPV MACH).
The exhibition brings together artists from Bohol, Cebu, Iloilo, Leyte, Negros Occidental, Negros Oriental, Samar, and Siquijor.
It opened April 14 and will be on show until May 12, 2023 at the Hanas Gallery of UPV MACH, Iloilo City Campus of UP Visayas.
Rustling Gathering Force
From the humble concept of Kasikas, a light noise like silk fabric or leaves blowing in the wind, these formidable artists have proven art's capacity not only to flutter and move surrounding air but to gather force, disturb, and overturn common perceeptions in artmaking in the regions.
From multi-toned golds in an elegantly restrained abstract piece to a bestringed and carved wooden sound art installation, the range of art sends increasingly magnified vibrations through Hanas Changing Exhibition Gallery. One almost hears the echoing bellow of a black dog howling at the red moon, while a similarly striking orb appears amidst a child's writing exercises.
Read here: Hanas Gallery-UPV MACH will feature KASIKAS
These crimson spheres not only signify vitality and spirit but also lend their color's implication for unmistakable passion, whether used in an abstracted underwarter scene, as background for a queenly presence astride an ornamented carabao, a child's flowing dress as she enjoys the company of her dolls and stuffed toys, or daubed on canvas with oranges, periwinkles, and blues to accentuate a breathtaking female visage. Going deeper means darker and more macabre, like a ravenous spirit devouring a slab of raw meat.
Purples and pink also feature prominently in the exhibition, serving as the backdrop for a bepattered sun warrior, a tempting portrayal of sensuality with roseate and white bunny ears, rubbercut-style, impressions, on a fragmented and interlocking ground, and even toy soldiers melting in cataclysmic formation as they crawl in futility across canvas. Tattoo-marked skin extolling female power is also a subject of fascination, while resinized teddy bear contrasts innocence with tough love as it surprises with the change of material from soft tufts of fur into hard and shiny surface as it lies embedded in shards of beautiful yet broken glass.
Neutral earth tones dominate another scultural piece, a triangular pod opening while flanked by crawling creatures. These allusions to earth's creations resonate with the painting of an almost abstracted, seemingly fossilized underwater creature that defies generally accepcted classification. Assemblages of black dolls with glass eyes amidst textured fibers and woven material harken to unknown elements in our midst. A dark horse rides the wind, head-to-head, with its contrasting compatriot. This white steed shares immaculateness with carved alabastrine faces seen in the round, an invitation to quiet contemplation while implying strength and heft. Graphite on a shaped white panel portrays a revolutionary thought leader with a crown of twisted thorns and hammerscreating the shape of the cross, while the drawing of a surfer bravely shows not only her heart but all that matters in it, including thought on environmental and political issues juxtaposed with scientific illustration on paper.
A page off meditations by Marcus Aurelius is utilized in a mixed-media piece that both warns of negativity and contrasts it with a levitating cloud man with a smaile pasted on. Pristine paper also serves as a fitting background for frenetic pen and ink renderings with striking graphics proclaiming the most wholesome art in the entire universe. Dirtied white makes an appearance as a bird perches on a smashed vessel, prodding a broken light bulb and creating a stark reminder of the passage of time.
All these shades, tones, and hues of the works in the exhibition are assembled uncannily in a master's 329th iteration of manature, with striking striations of saturated pigments combining with select cuttings of fiber, dried leaves, and strands of material captured on thin layers of paper. It is a joyous celebration of heterogeneity amalgamated into a contrasting yet harmonious whole we can, indeed, proudly name taliambong, arte, sining, alampat, pamintal, kinulit, and all other personal definitions of creative adventures. Kasikas is the beginning of a conversation, gaining momentum with Visayan artists' remarkable command of material, concept, mythmaking, and spirit.
Credits:
The text from the subtitle Rustling Gathering Force is by Kaye O'Yek and taken from the exhibition statement. The intro and photos are by Iloilo Art Life.