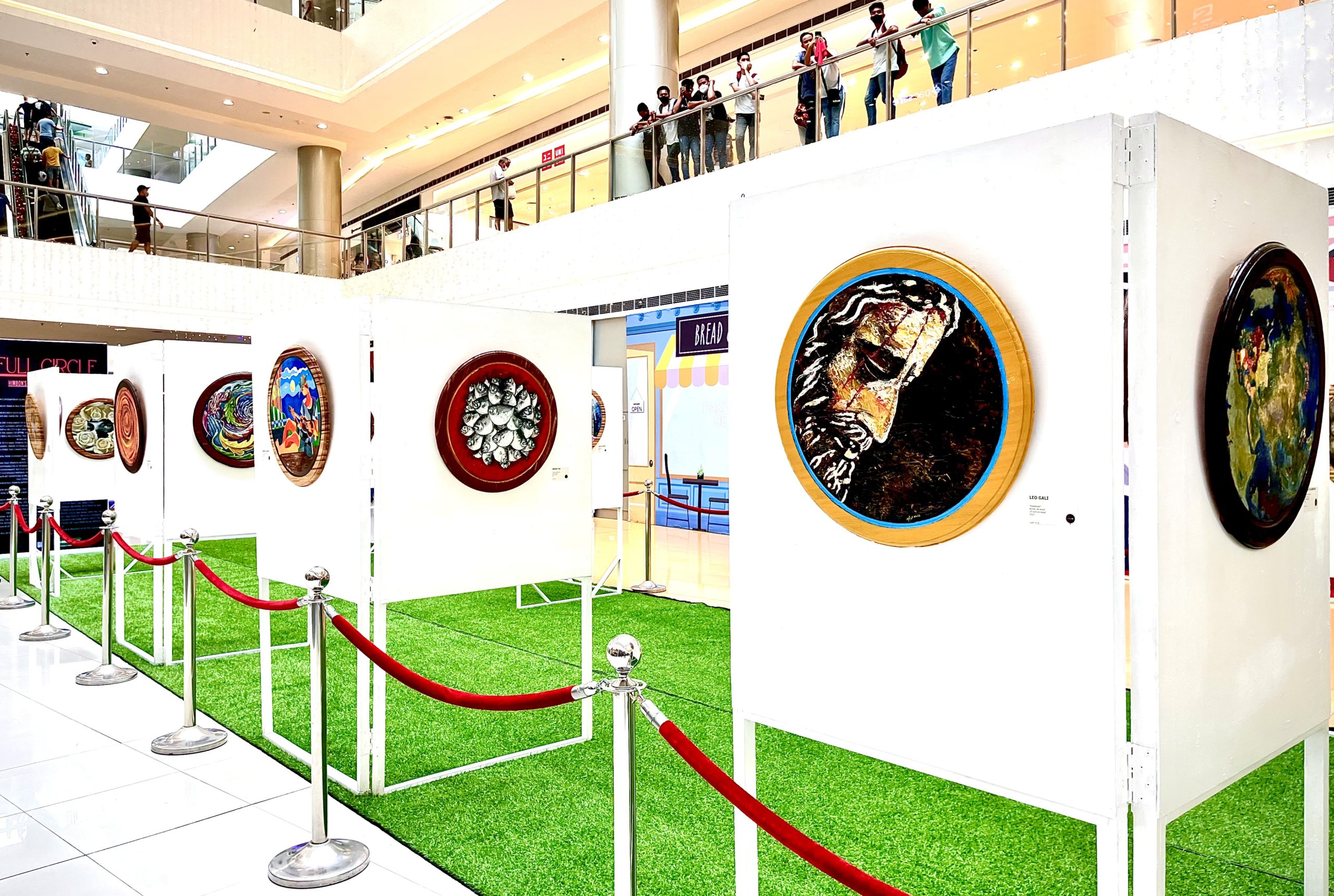 Himbon Contemporary Artists Group marks 5 years
Himbon Contemporary Artists Group marks 5 years this year with a theme: "Full Circle", an ongoing show on the ground floor of SM City Iloilo and with actual sketching and drawing sessions in between.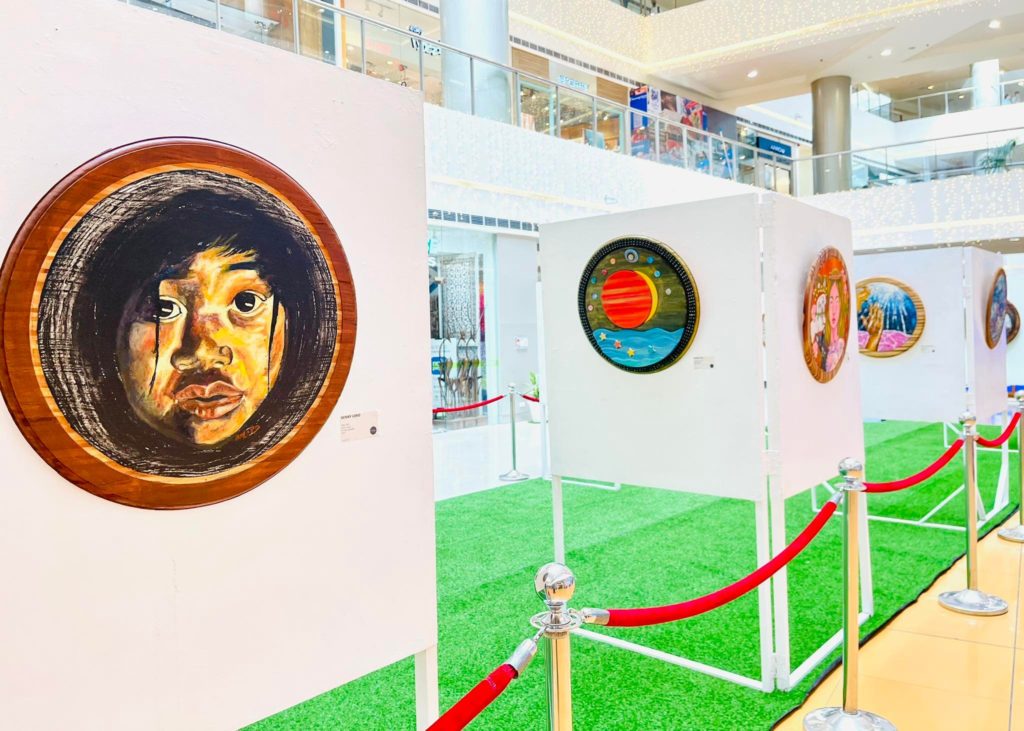 The show symbolically commemorates the contribution of each member in the turning of Himbon into a full circle with works mounted on a circular canvas and wood frame. A variety of 32 colorful masterpieces by both young and senior artists and with style recognizable with the identity of the artist that created it can be viewed.
Full Circle looks back to Himbon's humble beginnings, formed in September 2017 after two years of its initial conceptualization by conveners Marrz Capanang, Vic Fario, Harry Mark Gonzales, and Gina Apostol. It became the association of different ages from young novices and new comers to art up to award-winning artists and professionals who have established names in the country's art sector.
Since then, Himbon grew to become Iloilo's largest organization with members from all over Panay and Guimaras Islands who are engaged in multi-disciplinary art forms: visual art, drawing, animation, sculpture, music, theater, literature, and digital art. Some members have combined art making in their vocations as designers, architects, art curators, draftsmen, printmakers, furniture makers, educators, community servants, public intellectuals, activists, service industry professionals, and health frontliners. You name it, Himbon has one or two under its roof.
In the last five years, Himbon has developed, not only as a group unified by art discipline, but, more substantially, as an aggrupation of different persuasions, professional backgrounds, religious faith, and political ideology – a group with one of the most peculiar and diversified characteristics to have come together.
Before the pandemic lockdown, Himbon has a roster of 45 individual art makers and received guidance from most competent mentors who are academics, art scholars, and who are hands-on in art like Martin Genodepa, Ed Defensor, Alfredo Esquillo, Jr., and Renato Habulan.
The organizational development of the group did not come without public hesitance, art patron's criticisms, and snobbery within and outside the art sector. Yet it courageously moved forward with its mission of making contemporary art for the masses by providing an alternative venue for art viewing, appreciation, and education outside the galleries and museums.
Himbon used art as a medium for mass education
The Himbon Contemporary Artists Group has mounted exhibits and art assemblies, organized installation art, and established public murals. It adorned Iloilo with art with the award-winning skills of its members. Annually, the excellent imagination and artistry of its members brings pride to the Iloilo art scene with every prestigious award-giving body carrying a name of an Ilonggo artist either as finalist or as winner. Himbon has it.
Himbon's mission of bringing art to the communities has strongly manifested in the last five years, two of which were spent restlessly during the pandemic.
Also Read: Himbon to show upcycled art in Bottles and Vases
They are responsible for introducing art to the peripheries – locations with a high density of people who needs awareness and education regarding events and phenomena that affect their daily lives and survival.
It used art as a diplomatic medium to nag personal conscience, jolt the exercise of active citizenship, and encompass socio-political-religious biases to arrive at a common ground and build peaceful coexistence.
Likewise, Himbon effectively used art as a medium for mass education with artworks large and small, within malls or on walls outside the communities, to convey themes deplete of ego and self-aggrandizement to attain a higher purpose; art that intends to influence the public to rethink of their unsustainable practices, to care for the environment; of living and non-living things; of fellow human beings; and to embrace the regularity of art as an integral element of human existence.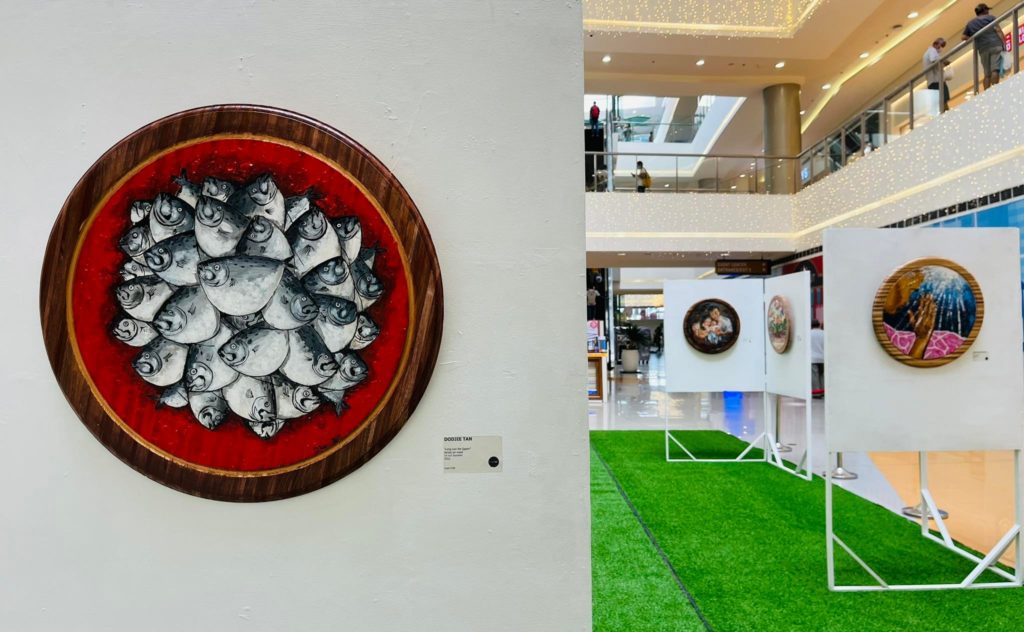 Communication through art has become Himbon's noble role as it tackled our society's moral dilemmas and by taking careful actions through engagements that offer an alternative view about the role that artists play in our society in its attempt to demolish the conventional perception that art is elitist and only accessible to the few.
The group declared that it breathes life through diversity, harmony, and camaraderie.
Navigating through the public and private sphere
Himbon Contemporary Artists Group has likewise gracefully navigated the delicate political, social, and fiscal environment of public-private partnerships gaining the openness of Iloilo City Government and private companies through collaboration and partnership.
Read: Himbon to feature works in HOME as an inauguration show of Arthub
The group has mainstreamed art through a partnership with the conglomerate SM Group making them the channel of SM City Iloilo's art advocacies. Through Troy Camarista, Himbon earned the support for their art events and secured provisions to significant spots like the Molo Mansion for art shows.
The partnership has allowed Himbon to bring Ilonggo art to a larger audience.
For Himbon, establishing partnership and linkage with other players in society is an exercise of social responsibility which opens up opportunities for the group to tackle concerns of the marginalized sector in society. Hence, the group is also a partner of the Gaisano Group with a provision for its Art Hub at the Iloilo City Times Square.
Read: ArtHub is Himbon's HQ at the City Times Square Iloilo
The establishment of ArtHub in February 2020 is a manifestation of Himbon's strong collaborative quality to push for the development of arts and culture in Iloilo and the growth of the local art movement.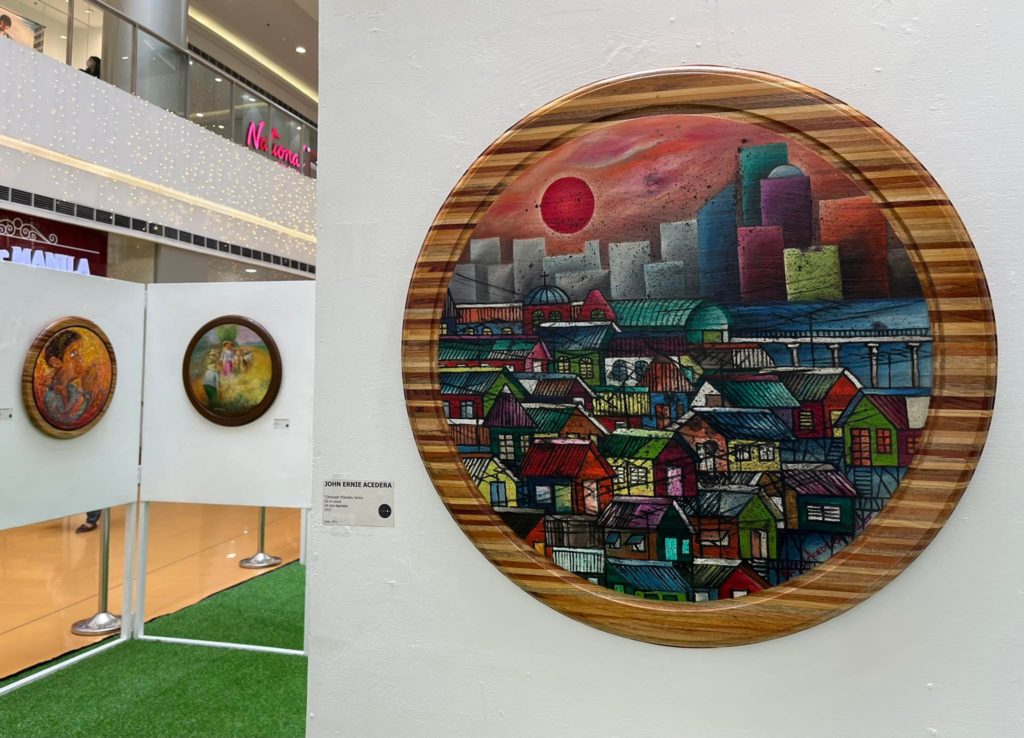 The Himbon Art Hub became a vehicle for learning about Ilonggo art and art in general. It offered an opportunity for visitors to interact with the artists and learn about the masterpieces: the medium that they use, their art process, approaches, methods, and a slice of understanding on the lives of artists.
The group is also an enduring partner of Eskinita Art Gallery by renowned social realist Alfredo Esquillo, Jr. and Renato Habulan, giving Himbon members linkage and access to Esquillo's residency and mentorship program and show of works in its gallery. The partnership has opened doors for regional artists to shine in the national and international arenas.
Likewise, Himbon has partnered with Megaworld, a community-based NGO like VILLA for historical landmarks restoration in the Villa Arevalo district, and fundraisers through art.
Himbon showed the importance of being in a collective to the artist's personal development and Full Circle is a testament to Himbon's innate quality – inclusion, connection, and unity.
This is the second time for Himbon to commemorate an anniversary with the theme Full Circle. Perhaps there will be plenty of "full circles" for this Ilonggo collective that is true to its Hiligaynon name: to come together and assemble.