Four Murals of Kaon Na Ta! collab at Festive Walk
Four murals at the Festive Walk Parade was opened May 19, 2023 as part of the launching of the collaborative exhibit: Kaon Na Ta! | A Melding of Visual Flavors at the Iloilo Museum of Contemporary Art (ILOMOCA).
The murals of Kaon Na Ta! is a major post-pandemic collaborative project between Western Visayas and Metro Manila artists. It introduced the artists with each other for the first time, yet their love for art "melded" them together showing an exquisite creation.
After viewing the Kaon Na Ta! exhibit at ILOMOCA, visitors can take a short walk to see the four murals beside cafés and restos at the Festive Walk Parade.
Two of the murals that are displayed at ground floor were created by Romeo Lee and Jason Rufino, and by Pow Martinez and Janine Tolores.
At the second floor shows the works by Marija Vicente and Eyecan Creatives, and by Arvin Nogueras and Da Da.
1 – Romeo Lee x Jason Rufino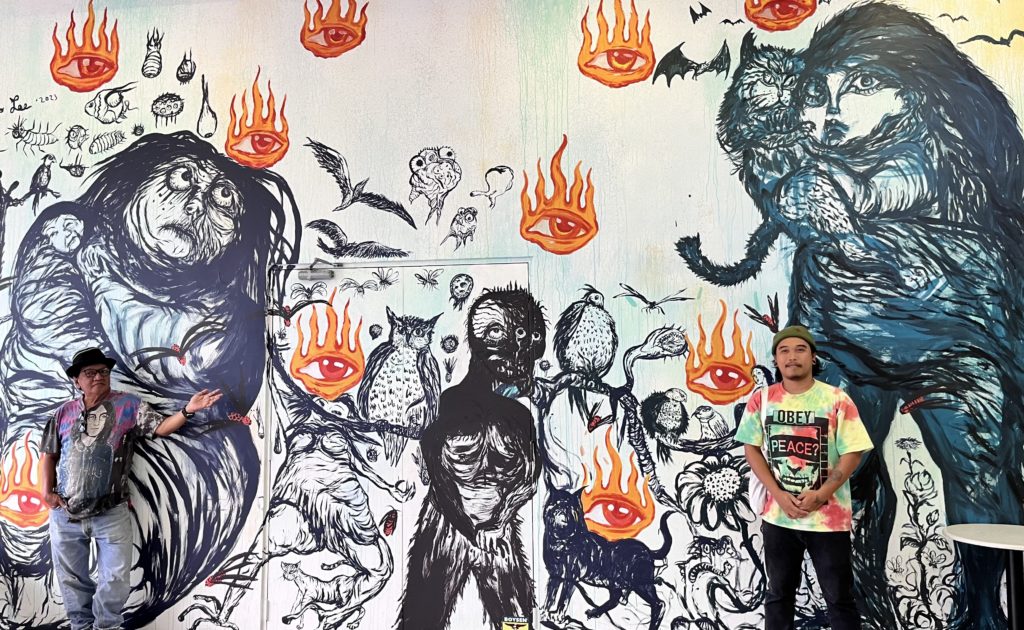 In each of their artistic pursuits, Romeo Lee and Jason Rufino look back and further explore their personal journeys in this mythical and masterful showcase of their unique styles and the iconic stories that have shaped their creative expressions. With the use of creatures and fiery eyes, they introduce us to the weird yet magical worlds that inspire and even inform us of the opportunities beyond our imagination. Not stuck in a particular pattern, the artists collaborate for both a wild and a dreamy ride for everyone to enjoy and digest.
Romeo Lee is a local legend, a man of many talents, and an inspiration and influence to many artists, who is arguably the king of the alternative art scene in Manila if not its crown prince. Romeo's paintings are uniquely distinct in their depiction of local folklore and the supernatural which he imbues with an edgy punk aesthetic that makes one wonder if Van Gogh had listened to the Sex Pistols and the Cure while watching Shake, Rattle, & Roll.
Moreover, Lee gives us a hallucinatory vision of spiritual life, not so much in the glorious portrayal of religious salvation but in the revelation of immanent evil that is induced by the conditions of life. Call it an exorcism of an aesthetic kind if you will, Lee having released grossly formed phantoms that possess his characters to do inhuman things and deform their bodies into diabolical contortions. Lee is an icon of subcultural activity in Manila, his highly regarded presence circle around the spheres of art, music, and entertainment since the '80s.
Meanwhile, Jason Rufino (Grin Leaves) is a tattoo and visual artist based in Roxas City, Capiz. He is a member of the Arts Association of Capiz (AAC) and the co-founder of the 036 Project. He has participated in national arts competitions like the Metrobank Arts and Design Excellence (MADE and the Philippine Art Awards (PAA).
Rufino also initiated the Pamulong Project which investigated and explored the traditional healers of Capiz. Through KANTINA, an art space for co-learning and co-creation, he participated in an exhibition at the Museum of Modern and Contemporary Art (MMCA) in Seoul, South Korea. Pre-pandemic he enrolled in some units in the Culture and Arts in Education course at the Filamer Christian University (FCU).
2 – Pow Martinez x Janine Tolores
Pow Martinez and Janine Tolores both believe that there is no concrete shape or confined space to making art come alive. Using refreshing hues of color that set apart different figures and forms, they tell a story in which our inner child discovers and dreams of the endless possibilities that begin when we do not take things too seriously. The artists invite us to imagine and be open, to freely create and not commit to just a certain plan, and to continue making new ideas come to life.
Pow Martinez (b. 1983) is a recipient of the 2010 Ateneo Art Award for his exhibition 1 Billion Years at West Gallery, Philippines. He exhibits internationally and has worked with different media, from painting to sound.
Martinez's paintings belie their grotesque subject matter with the indelibly beautiful surfaces and a wide-ranging, daring use of color. Mutants, monsters, demons, deviants, and freaks lurch, sit, and appear to transform amidst weirdly lit landscapes or disintegrating urban scenarios, or emerge from a painterly graffito mess, but, as his more abstracted works insist, Martinez's ability to render intriguing relationships between forms and surfaces ensure his works are endlessly compelling—an experience akin to a beautiful nightmare. Pow Martinez lives and works in Manila, Philippines.
Janine Tolores, on the other hand, is a freelance artist based in the heart of Aklan, the capital town of Kalibo. She specializes in modern surrealism and hyperrealism using different art forms and mediums. She is a self-taught artist who loves to explore different art styles.
3 – Dinaan sa Pera by Marija Vicente x Eyecan Creatives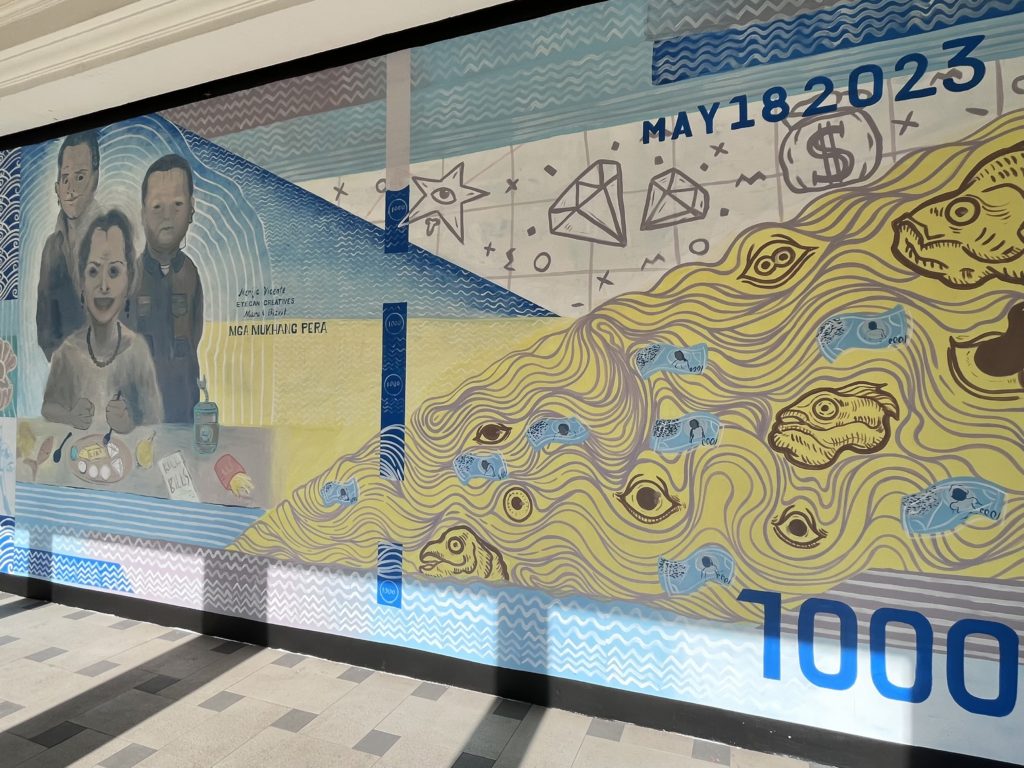 Having only met for the first time in a fastfood chain and collecting their thoughts, then collaborating in a coffee shop to create an image showcasing their individual strengths and styles as artists, Marija Vicente and Eyecan Creatives unite with the use of different colors, techniques, and symbolisms as they depict social realities in a manner that captivates the diversity of people who are all in the mall. 'Dinaan sa Pera' is an eye-opening journey of realization that beyond our daily consumption, there are pieces of ourselves and parts of our nation that contribute to our culture and the building of the future.
Marija Vicente (b. 1988) is a visual artist working in Rizal with a bachelor's degree in Painting from the UP College of Fine Arts. With a long practice grounded in drawing, the scenic oil paintings of Marija Vicente are inspired by beauty, sadness, longing, trauma, sex, comedy, and a peculiar poorness of the spirit. Her carnal figures and psychedelic landscapes intimately explore how it feels to be a human being.
Her collaborative works are explorations of interpersonal connection, closeness and healing through various multimedia installations with Gail Vicente and Tanya Villanueva; writing screenplays for film (Dog Days, 2018; Papaya, 2021); contributing artist at Malantot Comix (Ranggo Espesye, 2016-present), and as the creator and co-founder of Abnoy Pipes, Inc., a brand that promotes health and healing through beauty and comedy.
She has exhibited extensively in Manila since 2007. Notable solo exhibits include United By Holes at West Gallery (2012), Break Camp at Project 20 (2015), and Deep Inside at Kaida Contemporary (2016). She is also a member of the Pawikan Art Collective.
EyeCan Creatives, on the other hand, is an artist-run group based in Roxas City, Capiz; composed of Aina Shane Martinez, L. Marius Alayon and Hazel Ann Fegarido with the help of Camille Abejon and Leo Jake Dadivas.
The group instigates and organizes events and projects anchored in visual arts, local culture as well as storytelling. They partner with Local Government Units (LGUs) and the private sector in doing various activities and projects. While their main focus is on the visual arts, they also strive to promote unity amongst the community through local arts, crafts, murals and documentaries while offering avenues for creativity. The group advocates for the promotion, awareness and preservation of arts and culture as they support local artists.
4 – Arvin Nogueras x Da Da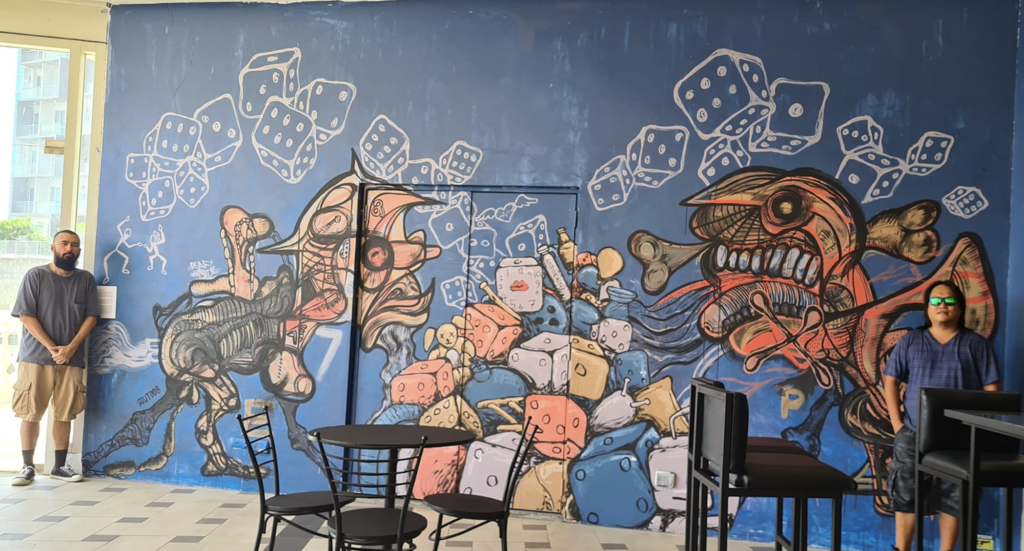 With Da Da's dice for juggling his profession and passion and Arvin Nogueras' graffiti and imagery from his journey, the two artists promote fun in its most essential forms—in spontaneity and in beauty. They explore their distinct styles of expression as they share the same blank canvas and a pleasing color scheme to create a sketch that captures the moment in the shared creative space they are in. Without the limits of brush strokes and layers and the pressure of completion, they are able to combine their signature styles seamlessly and still be identifiable as their own.
Arvin Nogueras studied at the College of Fine Arts, University of the Philippines in Diliman. His deft calligraphic imagery blurs the high from the low, from graffiti to abstraction, from sound to language, from surface to structure, away from the boundaries of the body to the social environment, affecting how we read visual signs as codes of interactive meaning akin to the performing magic of cave paintings, effectively picturing the politics of expression and its force.
llonggo/Guimarasnon artist DADA incorporates contemporary surrealism and conceptual portrait-impressionism in his works; portraying personal struggles and growth. His current artistic focus is on the frontline healthcare workers fighting in the COVID-19 pandemic. Using his own style and creativity as a self-taught artist, he conveys the message that we as human beings are not so different from each other. In a world of opportunities and misfortunes, we are all alike.
Dada uses dice in his work to symbolize his gamble and dilemma, having to choose between his profession as a nurse or his passion in the visual arts. His specialty is acrylic on canvas, expertly integrating small canvases to create a larger plate. The Codex Series Canvas is one of the products of his imagination that gives the viewer the impression of reading from a book as one looks at his works.
Kaon Na Ta! | A Melding of Visual Flavors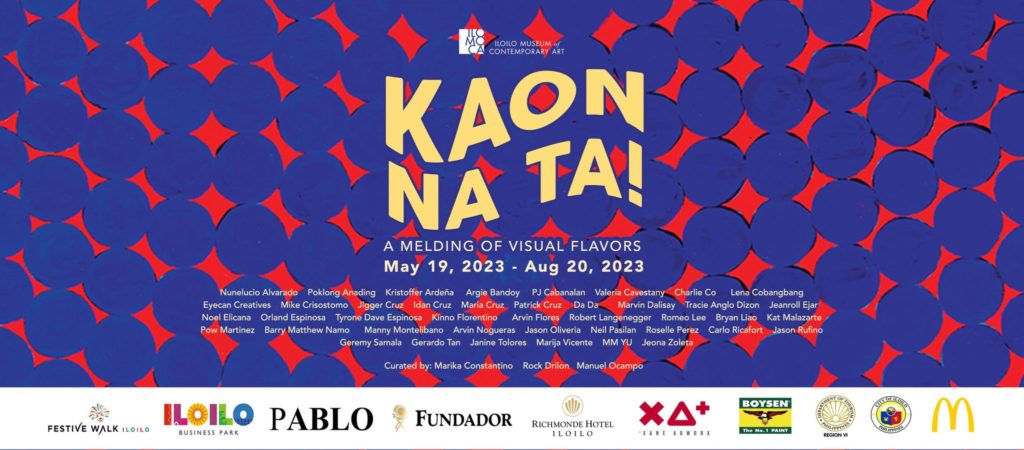 "More than simply showcasing art that feeds the senses, we hope that Kaon Na Ta stimulates and sustains dialogue on identity and creativity. Through this exhibition, we also aim to strengthen Iloilo's identity as a significant hub for arts and culture in the region and as a premiere destination for contemporary art in the Philippines," Maricel Montero, museum director, ILOMOCA, says.
In Hiligaynon, "Kaon na ta!" means "Let's eat!" – it is an invitation to share a meal. Its meaning far exceeds its simple form, as it also implies generosity, hospitality, congregation, and gratification. Taking a cue from this phrase, the Iloilo Museum of Contemporary Art (ILOMOCA) sets the table for a feast of its own through Kaon Na Ta! | A Melding of Visual Flavors.
It is a major exhibition which brought together 20 artists from Western Visayas and 22 from Metro Manila to build the idea of an "aesthetic cuisine," in which food is used as a metaphor for cultural consumption, community and identity, and originality and invention. The mixture of different tastes fuses as one, to produce something fresh in the hopes of generating a dialogue on creativity.
Curated by Filipino artists Marika Constantino, Rock Drilon, and Manuel Ocampo, Kaon Na Ta! | A Melding of Visual Flavors is a buffet of visual dialogues in the form of paintings, drawings, sculptures, photography, collage, mixed media works, installations, and videos.
Participating artists from Western Visayas are: Bryan Liao, Janine Tolores, Eyecan Creatives, Jason Rufino, PJ Cabanalan, Marvin Dalisay, Jeanroll Ejar, Noel Elicana, Orland Espinosa, Tyron Dave Espinosa, Kinno Florentino, Kat Malazarte, Barry Matthew Namo, Roselle Perez, DaDa, Nunelucio Alvarado, Kristoffer Ardeña, Charlie Co, Manny Montelibano, and Neil Pasilan.
Artists from Metro Manila are: Poklong Anading, Argie Bandoy, Valeria Cavestany, Lena Cobangbang, Mike Crisostomo, Jigger Cruz, Idan Cruz, Maria Cruz, Patrick Cruz, Tracie Anglo Dizon, Arvin Flores, Robert Langenegger, Romeo Lee, Pow Martinez, Arvin Nogueras, Jayson Oliveria, Carlo Ricafort, Geremy Samala, Gerardo Tan, Marija Vicente, MMY, and Jeona Zoleta.
Visit ILOMOCA from Tuesdays to Sundays, 10:00 A.M. to 6:00 P.M.